U-Box Portable Storage and Moving Containers in Farmington, NM at Ray Vickers Special Cars & Farmington RV Sales

(U-Haul Neighborhood Dealer)
Pour nous contacter
Farmington, NM 87401
(Across the Street from the Westside Walmart)
Heures d'ouverture
Mon–Fri

De 8 h am à 5 h pm

Samedi

De 9 h am à 5 h pm

Dimanche

Fermé
Services dans cet établissement :
U-Box Portable Storage and Moving Containers in Farmington, NM 87401
Les conteneurs U-Box sont une manière pratique, flexible et sûre de déménager et d'entreposer vos affaires. Whether you're moving across town or across the country, portable storage containers are the perfect solution. We can deliver them to your door so you can take your time loading your belongings. If you need us to store your containers while you're staging you home or waiting to close on your new place, rest assured your things are safe in one of our many neighborhood U-Haul locations. When you're ready we can deliver them to your new home or store as long as you need. Not moving? You can keep the container on your property for as long as you need, whether doing a remodel or clearing out your garage or basement.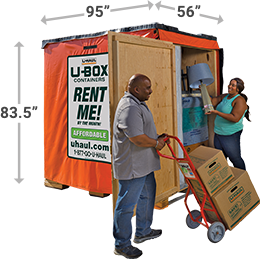 Un conteneur U-Box peut contenir jusqu'à une pièce et demie de biens de maison. Si ça rentre dans votre maison, ça rentre dans un U-Box -.
Dimensions internes :

95 po X 56 po X 83,5 po (L x l x H)

Capacité :

257 pi cu

Poids :

Jusqu'à 2,00 lb
Conseil de déménagement : If you aren't sure you can fit all your belongings in your U-Box - container, order and extra! Au contraire de nos concurrents, nous ne vous faisons payer que pour ceux que vous utilisez.
Fonctionnement
Mieux encore, en utilisant les conteneurs  U-Box® pour un déménagement ou comme solution d'entreposage portable, vous profitez de la flexibilité et du contrôle nécessaires pour planifier un déménagement parfait. Vous pouvez les faire livrer à votre maison ou les entreposer jusqu'à ce que vous sachiez où vous allez. We give you the opportunity to plan each.
Choisissez le nombre de conteneurs dont vous avez besoin. Un conteneur

U-Box

peut contenir jusqu'à une pièce et demie d'objets de la maison. When in doubt get an extra-we won't charge you if you don't use it.
Dites-nous quand vous aurez besoin d'accéder au conteneur. Si vous le faites livrer dans une nouvelle ville, mais que vous n'en avez pas encore besoin, nous pouvons l'entreposer pour vous dans notre entrepôt sécurisé.
Nous vous livrons les conteneurs et les ramassons lorsque vous êtes prêt. If you would rather take it home yourself, use our specially built trailer or pack it at a

U-Haul

location.
Nous entreposerons votre conteneur dans notre entrepôt sécurisé ou bien nous pouvons le livrer n'importe où dans le monde. Vous recevrez de nos nouvelles pendant le transport du conteneur et lorsqu'il arrivera à destination.
Autres
U-Haul

Services
Évaluations des clients
- Cote moyenne des clients
Dites-nous ce que vous en pensez.
Vos précieux commentaires nous aideront à mieux vous servir.
Écrire un commentaire
Évaluation :

4
I overall had a good experience. My belongings arrived on time and nothing was damaged.

larissa G. 
Rating:

5
Good service!

Loly P. 
Rating:

3
In all, my items were well taken care of and the people I talked to and worked with were friendly. Because of some issues I cannot give any better than an average grade. There were a few issues with this service. First, I ordered 5 boxes that were delivered one at a time and then picked up as I loaded. No furniture pads were brought to me until the last box was delivered. I ended up using my own bedding to protect the furniture. Second, One of the boxes had the door hanging by just one screw at the top. I had to wait two days before they came out to repair the door before I could load anything into it. The guy I was working with on that end was very nice and willing to fix the door but it was inconvenient to have to wait while I was packing up my house. Third, I was told that the boxes would be delivered to my new door step. Upon arriving, they said that the delivery service was not available in my area. I am a single woman moving to a place where I do not know anyone, this was the only reason I went with the boxes so that I could have them brought to me. They said I would be getting a call to resolve the issue within 72 hours. I never received such call, so I ended up finding my own people to collect the boxes and bring them to my new home. No compensation, no nothing in that regards. My suggestion, make sure all is in black and white and then recheck again before you say yes to their services.

Shelly S. 
Rating:

5
Shawn is great employee.

joseph C. 
Rating:

5
Shawn and Theresa at Ray Vickers Special Cars & Farmington RV Sales are very nice and made this experience great.

JOSEPH C. 
Rating:

5
Shawn in the Farmington office is so wonderful to work with. She was so kind and friendly and went out of her way to help us! 10/10

Christopher C. 
Rating:

3
I picked up my U-boxes on 28 April and returned them the same day and I was still charged in the month of June. Why? Would appreciate it if someone would call me and give me a credit for the month of June. Thank you

Wynn J B. 
No reviews have been submitted for this location.