U-Box Portable Storage and Moving Containers in South Bend, IN at Blockhouse Storage

(U-Haul Neighborhood Dealer)
Pour nous contacter

South Bend, IN 46614
Heures
Mon–Fri

De 9 h am à 4 h pm

Sat–Sun

Fermé
Services dans cet établissement :
U-Box Portable Storage and Moving Containers in South Bend, IN 46614
Les conteneurs U-Box sont une manière pratique, flexible et sûre de déménager et d'entreposer vos affaires. Whether you're moving across town or across the country, portable storage containers are the perfect solution. We can deliver them to your door so you can take your time loading your belongings. If you need us to store your containers while you're staging you home or waiting to close on your new place, rest assured your things are safe in one of our many neighborhood U-Haul locations. When you're ready we can deliver them to your new home or store as long as you need. Not moving? You can keep the container on your property for as long as you need, whether doing a remodel or clearing out your garage or basement.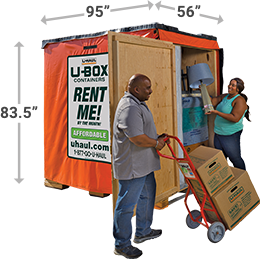 Un conteneur U-Box peut contenir jusqu'à une pièce et demie de biens de maison. Si ça rentre dans votre maison, ça rentre dans un U-Box -.
Dimensions internes :

95 po X 56 po X 83,5 po (L x l x H)

Capacité :

257 pi cu

Poids :

Jusqu'à 2,00 lb
Conseil de déménagement : If you aren't sure you can fit all your belongings in your U-Box - container, order and extra! Au contraire de nos concurrents, nous ne vous faisons payer que pour ceux que vous utilisez.
Fonctionnement
Mieux encore, en utilisant les conteneurs  U-Box® pour un déménagement ou comme solution d'entreposage portable, vous profitez de la flexibilité et du contrôle nécessaires pour planifier un déménagement parfait. Vous pouvez les faire livrer à votre maison ou les entreposer jusqu'à ce que vous sachiez où vous allez. We give you the opportunity to plan each.
Choisissez le nombre de conteneurs dont vous avez besoin. Un conteneur

U-Box

peut contenir jusqu'à une pièce et demie d'objets de la maison. When in doubt get an extra-we won't charge you if you don't use it.
Dites-nous quand vous aurez besoin d'accéder au conteneur. Si vous le faites livrer dans une nouvelle ville, mais que vous n'en avez pas encore besoin, nous pouvons l'entreposer pour vous dans notre entrepôt sécurisé.
Nous vous livrons les conteneurs et les ramassons lorsque vous êtes prêt. If you would rather take it home yourself, use our specially built trailer or pack it at a

U-Haul

location.
Nous entreposerons votre conteneur dans notre entrepôt sécurisé ou bien nous pouvons le livrer n'importe où dans le monde. Vous recevrez de nos nouvelles pendant le transport du conteneur et lorsqu'il arrivera à destination.
Autres
U-Haul

Services
U-Haul est l'installateur numéro 1 d'attaches de remorque en Amérique du Nord.

Service de propane livré directement à votre porte!